Fergus Falls MN | Low Interest Rates Have a High Impact on Your Purchasing Power
Are looking to buy a home in Fergus Falls MN 56537? As a real estate agent, I want to be prepared to ensure that you are given the best buying experience with knowledge and expertise to guide you along the way. One can never predict future interest rates with 100% accuracy, but most experts see a slight rise in the next year. We have been enjoying such a long period of low interest rates. With rates still low, now is a great time to start looking for a home.
Today, I would like to talk to you about how low interest rates have a high impact on your purchasing power.
According to Freddie Mac's latest Primary Mortgage Market Survey, interest rates for a 30-year fixed rate mortgage are currently at 3.92%, which is still near record lows in comparison to recent history!
The interest rate you secure when buying a home not only greatly impacts your monthly housing costs, but also impacts your purchasing power.
Purchasing power, simply put, is the amount of home you can afford to buy for the budget you have available to spend. As rates increase, the price of the house you can afford will decrease if you plan to stay within a certain monthly housing budget.
The chart below shows what impact rising interest rates would have if you planned to purchase a home within the national median price range, and planned to keep your principal and interest payments between $1,850-$1,900 a month.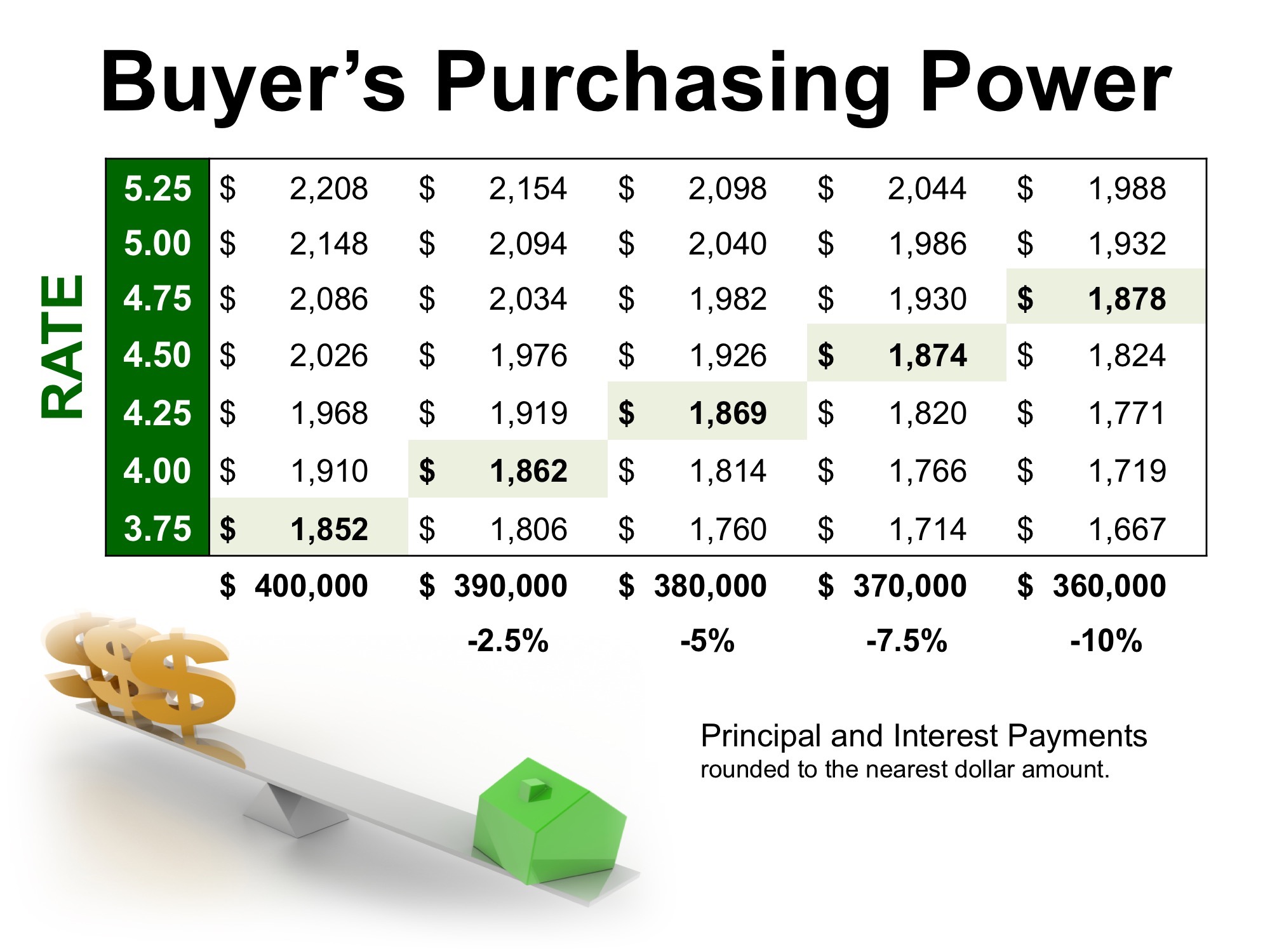 With each quarter of a percent increase in interest rate, the value of the home you can afford decreases by 2.5% (in this example, $10,000). Experts predict that mortgage rates will be closer to 5% by this time next year.
Act now to get the most house for your hard-earned money.
To protect your interests and ensure that you make the best possible decisions, it's important that you have a knowledgeable agent on your side who is an expert in his local real estate market. I am dedicated to keeping you on top of our local market. Rest assured that I will provide you with well-informed, trustworthy and personal guidance for your home purchase in Fergus Falls Minnesota.
To reach me, call or text 218-205-6566

Or send me an email at charlie@century21vista.com
Search for the newest listings in Fergus Falls (click on picture below)
Thinking of selling your home? Let me take over the marketing of your property. I'd love to visit with you about the Fergus Falls market and the value of your home.
charliebruehomes.com
Call or text 218-205-6568.
"Seeking to provide help, joy and benefit to home buying or selling."